ROBERT DE NIRO AND MATHEY-TISSOT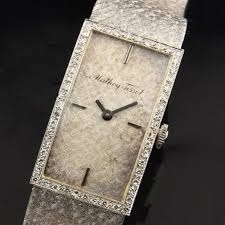 Did you recognize the watch that Robert De Niro is presented with in the famous film "The Irishman" (minute 2:15:18)?

That's exactly it!! A fantastic gold Mathey-Tissot watch with a gem-set bezel (Hodinkee press release: https://www.hodinkee.com/articles/robert-de-niro-martin-scorceses-the-irishman-watch-spotting) .
Mathey Tissot was founded in 1886 in Les Ponts de Martel near the center of the Swiss Jura mountains. Initially started as a manufacturer of mechanical movements and "repeater" watches (timepieces that only chime the hour and half-hour), its long history, spanning over a hundred years, shows how the brand has been able to evolve over the years.
For the full brand history visit the official Mathey-Tissot site here: https://www.matheytissot.com/b2b/cms/1/history.
Throughout the two World Wars, several military corps (including the British Navy and the US Army) turned to Mathey Tissot for the production of high-precision technical instruments able to guarantee reliable service over time.
During this time the Swiss brand specialized in the production of aviation watches, still highly appreciated and talked about even in specialized forums (https://thewatchforum.co.uk/index.php?/topic/105344-a-hidden-gem-a-brief-history-of-mathey-tissot/), without neglecting the "fine watch" sector. In fact, the watch model that we can admire in the film had its origins during those years.
After 134 years Mathey Tissot is still regarded as a benchmark in the Swiss orology industry. Models from the 50s are still sought after and traded online. (https://www.iconeek.com/matheytissotflybackchronograph.html)
For a few years now, Mathey Tissot has been following a globalization policy aimed at increasing their woldwide presence. To date, the brand's product range is quite broad, in fact they produce both quartz and automatic movement watches, all strictly "SWISS MADE". (Find all the available products here: https://www.matheytissot.com/b2b/en/175-type-22).
In the picture: Alberto Frigerio (Mathey Tissot CEO) at the HK fair.
Do not hesitate to contact us for further inquiries or to request a model not available on the site: info@swisswatchpassion.com.
Sign up for the newsletter to stay up to date with the latest news from Mathey Tissot.