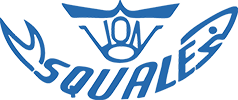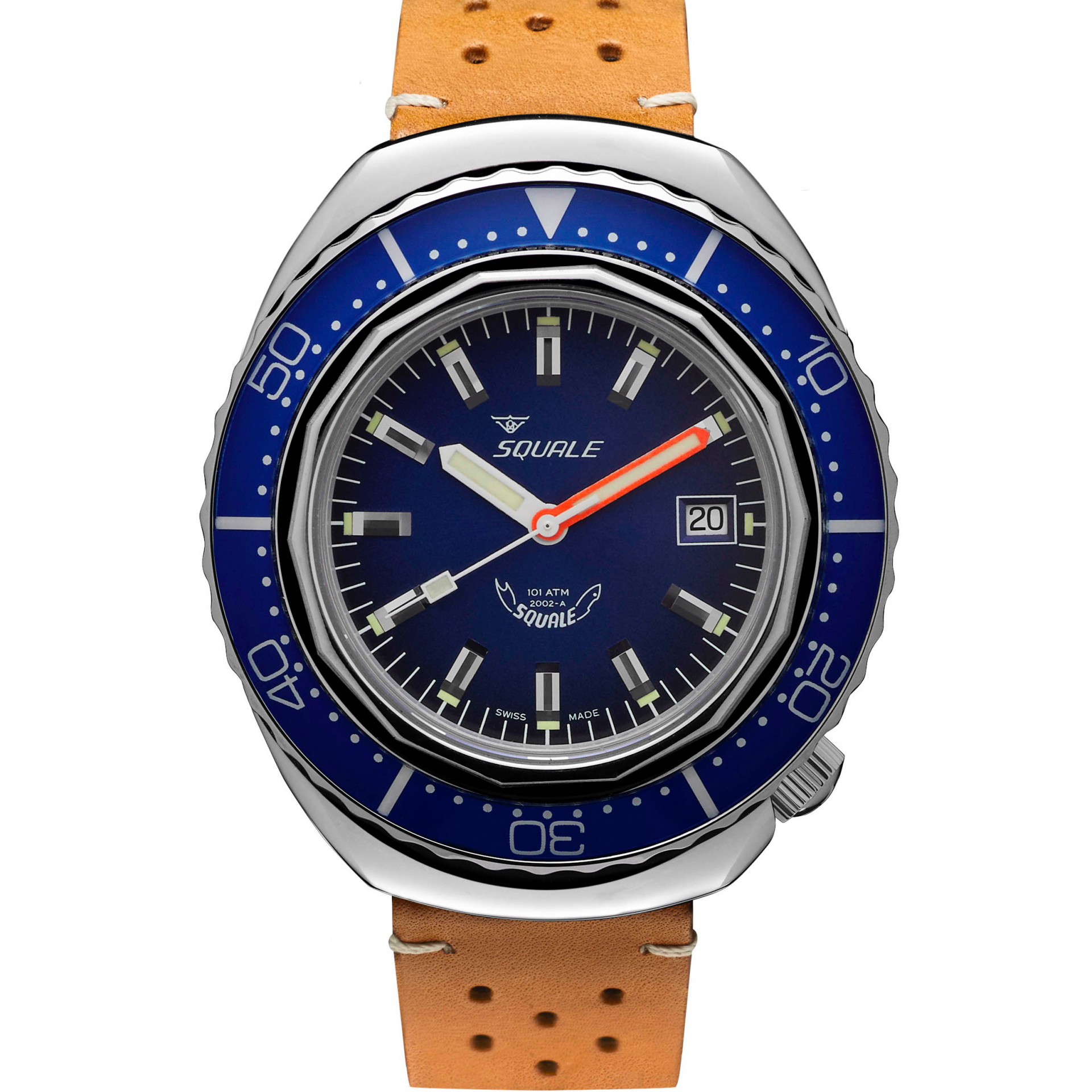 The iconic 2002 series has its roots in the 1970s launch of the Squale 101 Atmos, a unique diving watch that has become a timeless classic ever since the brand introduced it.
Each model in this series blends tradition and cutting-edge innovation paying homage to the long lineage of the brand, a story that began over sixty years ago.
Their elegant design, conceived by the founder of Squale himself, Charles Von Büren, combines functionality and innovation in every detail. The original 70s aesthetic goes hand in hand with new generation technologies and materials.
Reception in 5/10 working days
Shipping within 48 hours
Movement
Swiss SW200 automatic movement
Case back
Screw-down case back
Crown
Screw-down crown at 4 O'clock
Dial
Sunburst Blue dial. Polished index markers
Crystal
4 mm flat sapphire crystal
Additional info
Helium Valve
The unique construction of the glass with the double gasket for the 4mm thick sapphire crystal is one of the highlights of this professional diving watch. This construction was patented by Squale and is still in use today.
Another highlight is the unique Push-to-Release Bezel for save and easy operation in the dangerous conditions that go hand in hand with deep sea diving. The new updated model features a Helium release valve as standard , beautifully integrated in the side of the case doing its important job of releasing the helium gas and pressure that build up in the watch during deep diving.
The Squale 2002 is very comfortable to wear and well balanced on the wrist , the classic designed case is sized 43mmx55mm and has a height of 13mm and stands out by its unique shape and almost sculpted appearance. Classic in the darker colors and bold in the brighter colors.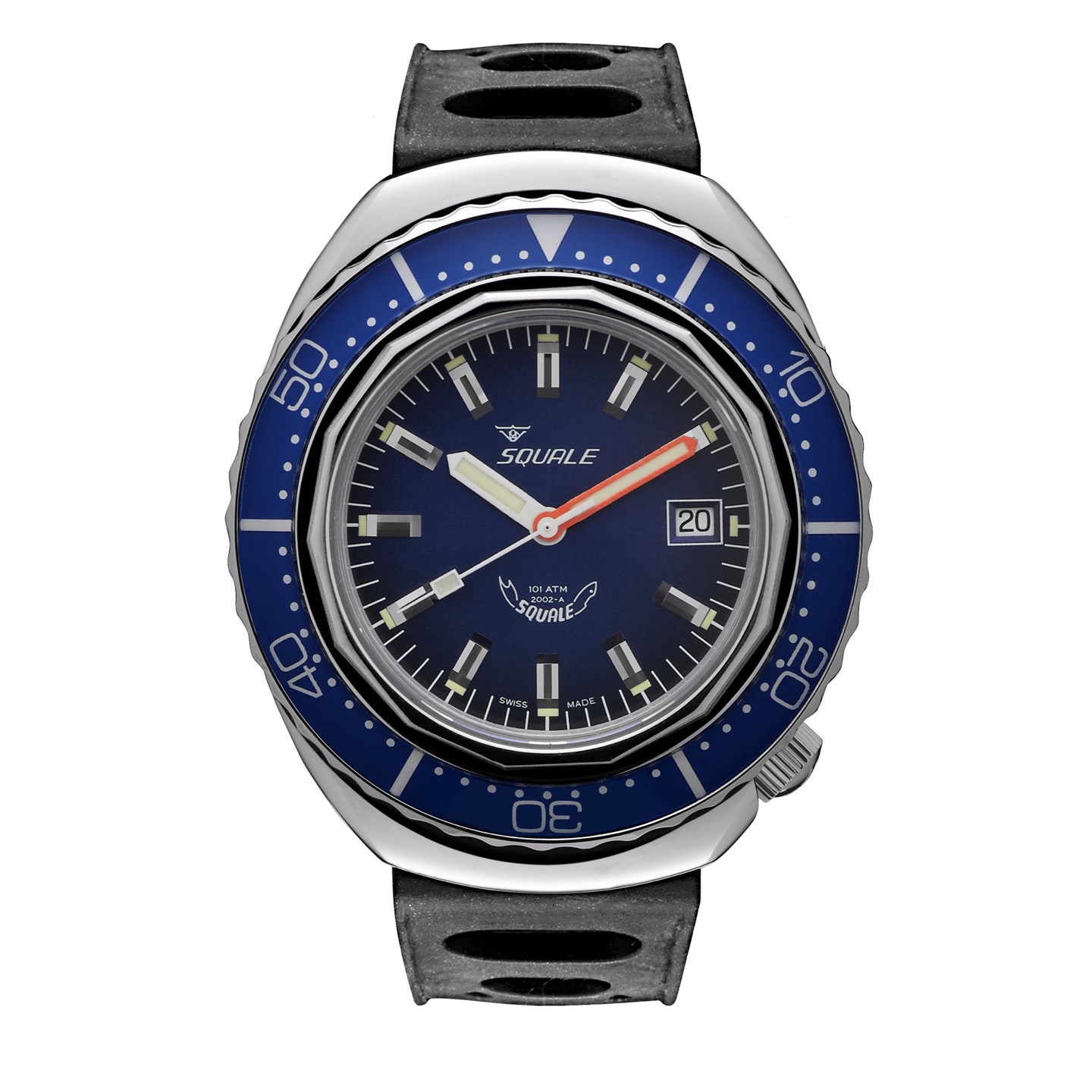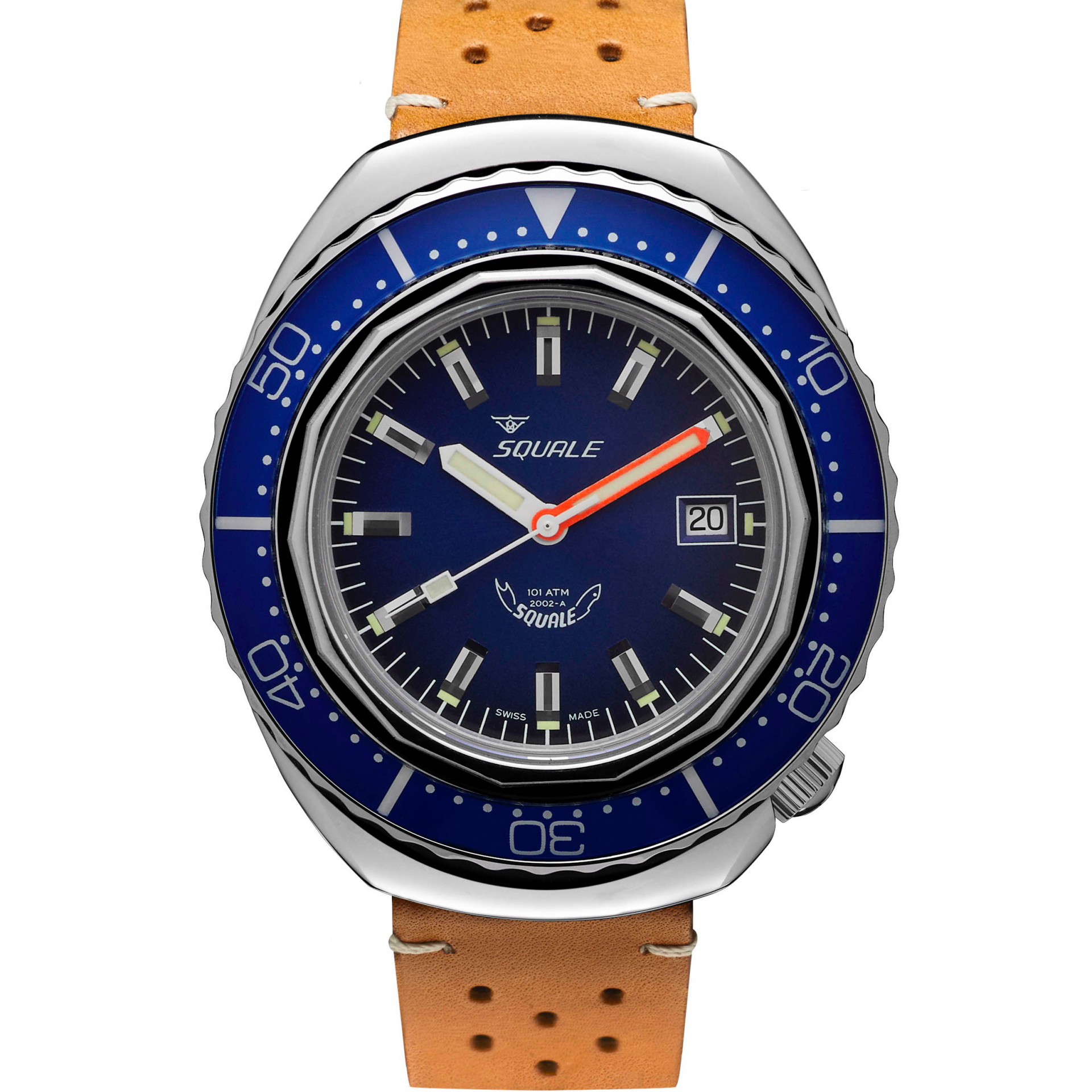 Equipped with the tried and tested Eta 2824 automatic movement for accuracy and reliability in the hardest conditions.
The Squale 2002 Series watches is available with three different finishes of the case: High gloss polished steel, blasted or matte PVD, and a broad choice of lacquered dial colors is available. The beautiful beveled applied indexes on the dial give this watch a luxurious appearance.
All models feature highly scratch resistant 4mm thick sapphire crystals with anti-reflective coating on the inside of the glass for excellent readability in every possible condition.
The glass is mounted on a double flexible gasket to ensure it is capable of pressures up to 101 Atm or 1000 meters water-resistance.
Standard equipped with a classic looking Tropic strap, made of Isoprene. Sturdy, casual and very comfortable to wear.
Optional is an easy to size Milanaise bracelet to complement the elegance of the watch.
Marco M.
I managed to get one just presented, I already own the classic model but that's a whole other thing! The dial fascinated me as well as the all-steel bezel. The stingray leather strap gives that elegance that is often not found on a sports watch. I am really satisfied with the purchase, and thanks to you at Swp for the professionalism shown to me.
Is it safe to buy on www.swisswatchpassion.com?
Yes, ordering on swisswatchpassion.com is safe. The connection to the swisswatchpassion.com website is protected by a secure 2048-bit SSL encryption certificate and all payment transaction data is entrusted to the PayPal platform, the worldwide reference player in online transactions. Your personal data will then be disclosed only in accordance with our privacy policy.
How can i buy a product?
Once you find the item you want to buy, click the "Add to Cart" button. To complete your order, follow the instructions for the checkout process. Your order will not be submitted until the end of the checkout process; then you will be asked for your payment details (you can choose between bank transfer or credit card or PayPal account). SwissWatchPassion items can also be ordered by telephone, by contacting our Customer Service.
What are the available paying methods?
You can be paid by bank transfer or Credit Card.
When will i recieve my product one i've bought it?
Approximately you'll receive our product in 15 business days from the date of payment. For any further information you can always contact our Customer Service.
While choosing my product can i recieve an advice or assistance?
Yes sure! If you want assistance on choosing a you can contact our Customer Service by e-mail or by telephone at our contact (you can see on footer page).
Warranty
All our products are covered by a warranty for two years from the invoice date.