1959 - 2019 SIXTY YEARS OF THE SWISS BRAND SQUALE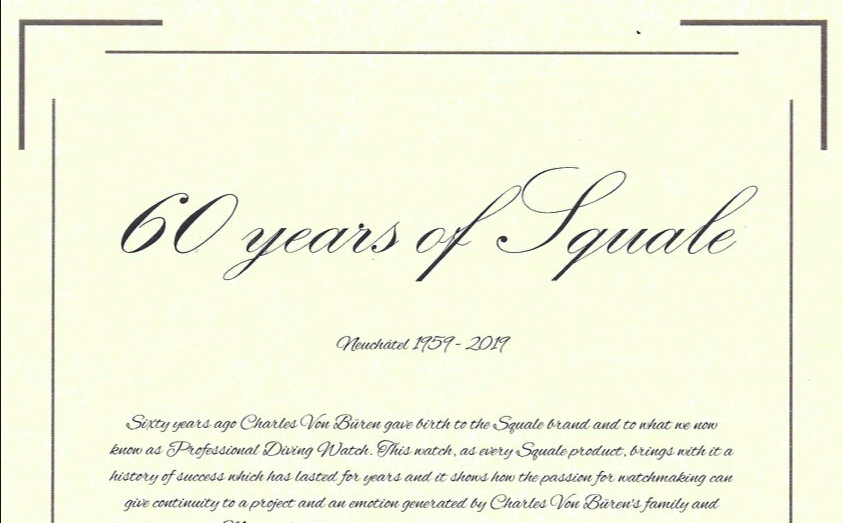 The Swiss fashion house decided to celebrate its 60-year anniversary by launching a new collection inspired by an iconic watch from the early years of the brand's life.

The 150-piece limited edition series was met with dizzying success; in less than a month all the pieces were sold out.
On July 10, 2019, in honor of Squale's anniversary, the Maggi family officially presented the Sub-39 60 Years Special Edition. The event was held in Neuchâtel and was attended by enthusiastic journalists and bloggers.
Here you can find an article from an Italian blogger: https://professionaldiverswatches.blogspot.com/2019/08/squale-storia-e-presentazione-orologio.html and an interview with Andrea Maggi. The blog also references the famous 34mm watch from sixty years ago that served as an inspiration for the Sub-39 series.
The American magazine WatchTime dedicated four pages to the event in their October 2019 issue. You can find the article by Roger Ruegger here: (https://www.swisswatchpassion.com/live/assets/media/upload/ watchtime_magazine_october_2019_squale.pdf)
After the great success of the limited edition series, Squale has launched other versions of the same series.
The enthusiasm with which the new series has been met, has prompted the brand to launch new versions in 2020 that are still awaited with great anticipation by Squale fans.
Sign up for the newsletter to stay up to date with the latest news from Squale.